Porcelain Patio Installers
In Surrey, porcelain tiling is one of the newest types of patio surfacing that customers choose to fit. It is a man-made product which means it's available in a wide variety of colours and textures, allowing it to be tailored to any specific style or area. From contemporary and crisp to a more traditional and rustic-styled patio area.
It is a hard-wearing product which means the colours and finish are exceptional at withstanding weather damage or foot traffic.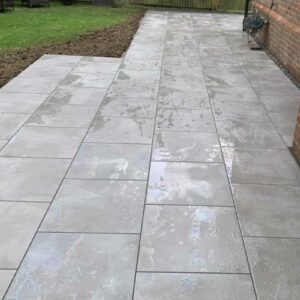 Each porcelain patio in Surrey installed by our team is done to the highest of standards, from a new base foundation of Type 1 MOT to a solid concrete base for the new surface. For each porcelain tile, we apply slurry primer to ensure maximum bonding of the new tile to the surface. We use a resin geo-fix grout to ensure maximum joint flexibility with mould resistance.
We are dedicated to providing high-quality craftsmanship and exceptional customer service. From the initial consultation to the final installation, we work closely with our clients to ensure their vision for their patio or garden area is brought to life.
Porcelain tiles are an excellent choice for outdoor spaces as they are durable, non-slip, and require minimal maintenance. During our free consultation, we can provide porcelain tile samples, including different sizes, shapes, and colours, to help you choose a suitable design.
For more choices, you can view our patio slabbing services or our sandstone patios in Surrey to see what other types of patios we can fit.
If you are looking for a reliable and professional patio contractor to install porcelain tiles on your patio or garden area, look no further than our company.
Why not call our porcelain patio installers on 01737 464070 for a free estimate in Surrey? We look forward to hearing from you.