Fake Lawns and Artificial Grass Surrey
If you are looking for low maintenance in your garden or lawn area, why not try our artificial grass installers in Surrey? We offer a wide range of low-maintenance options with options on artificial grass, fake grass and synthetic grass installations.
Specialising in the installation of premium artificial grass, our services span not only Surrey but also the surrounding areas. We strive to transform your lawn into a stunning artificial grass landscape as seamless and stress-free as possible, ensuring an aesthetically pleasing and functional outdoor space.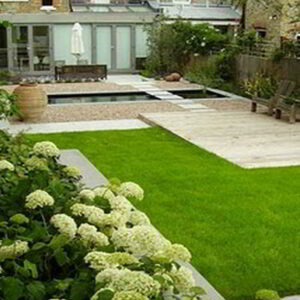 During our complimentary visit, we bring along a variety of samples to showcase our exceptional range of artificial lawn options. This allows you to explore our extensive selection and choose the perfect artificial grass solution tailored to your needs.
Our commitment to upholding the highest standards of service and craftsmanship is unmatched, and our team of professionals is always available to offer expert advice and guidance throughout the process.
In addition to our artificial grass services, we also offer a range of other gardening options, including wooden fencing and roll-on turf lawn installation, to cater to your specific landscaping needs.
To learn more about how Pavescape Landscaping can elevate the beauty and functionality of your garden, call us at 01737 464070. Discover the benefits of a luxurious garden lawn featuring an incredibly realistic natural appearance and low-maintenance installation in Surrey.
For other landscaping services, view our fencing services in Surrey or our roll on turf lawn services for Surrey.
Our artificial grass solutions are perfect for year-round use, even in shaded areas where real grass may struggle to thrive. Experience the difference between a pristine and enduring outdoor space with Pavescape Landscaping.
Call our artificial grass installers on 01737 464070 to schedule a free estimate on installing artificial grass lawns in Surrey.