Patio Slabbing Installers Surrey
Our patio contractors at Pavescape Landscaping provide an unbeatable installation service for supplying and installing new patios in Surrey. We offer a range of patio surfacing choices, from concrete slabbing to riven flagstones, limestone slabbing and more.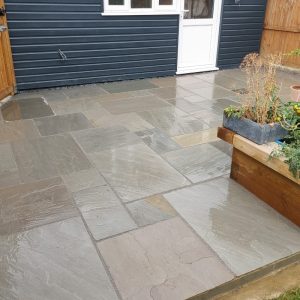 Our trained team handles each patio project directly, ensuring a high-quality installation on every patio slabbing project.
We provide free estimates where our patio designers can go through patio services with you and help to customise the patio to suit your requirements. From designing the shape of the patio to new patio door steps, drainage systems and garden paths.
At Pavescape Landscaping, we take pride in the quality of our work, and we constantly review it to ensure that it meets the highest standards. We offer various patio options, including porcelain tiled patios, limestone patio installations, and granite patios.
We use only the best products from top suppliers, including Marshalls and Stonemarket, for manufactured products and high-quality natural stone products. We can provide samples of different products to help you choose the perfect finish for your patio.
Our patio builders can provide solutions for all customers, from standard concrete riven slabbing to more exclusive natural stone and granite patios. If affordability is a concern, we can provide slabbing with different texture finishes that imitate natural stone but at a lower cost.
For other choices in your patio, view our porcelain patios in Surrey or our Indian sandstone patios in Surrey.
To get a free estimate from our patio contractors in Surrey or to discuss in more detail the work, call our team on 01737 464070 today. We look forward to hearing from you.