Gravel Driveways Surrey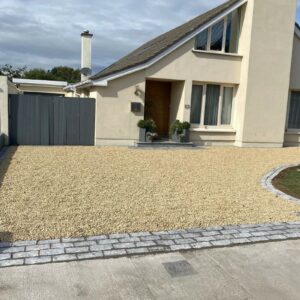 Gravel stone driveways in Surrey make an excellent choice for a driveway, especially if you are looking save money. It is considered one of the cheapest options for replacing your driveway or laneway surface.
Our gravel colour choices include natural stone, slate gravel, gold gravel, autumn mix, and options on various types of edging and borders to contain the permeable gravel driveway at your home in Surrey.
During our FREE quote, we can provide samples of the options available for a gravel stone driveway and ideas on how to maximise the area.
We understand that every property is unique, so we offer a range of customisable options to help you create a bespoke gravel driveway that perfectly complements your home. We can provide you with ideas on how to enhance the look of your driveway, including using a paving border as a restraint to give it an added effect.
For those who prefer a smooth surface as an entrance to their house, we can insert a nice paving area to split the gravel area and allow a clean and smooth entrance.
Our team of experts at Pavescape Landscaping can also install a range of gravel features, including gravel flower beds, drainage areas, and pathways.
To get a free estimate or to discuss options on what type of gravel driveway or laneway surface you would like installed, call Pavescape Landscaping on 01737 464070. We look forward to hearing from you.