Brick Laying Services Croydon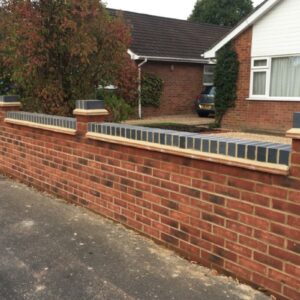 Our bricklayers in Croydon specialise in various types of brick walling work, ensuring that every project is executed with precision and attention to detail. From erecting new garden or driveway walling to repairing and replacing older walls.
Our bricklaying services in Croydon include:
Traditional Brick Walls: Enhance the timeless appeal of your property with expertly crafted traditional brick walls, perfect for creating a classic and enduring aesthetic.
Decorative Brick Walls: Elevate the visual appeal of your space with intricate and eye-catching decorative brick walls designed to make a striking statement.
Retaining Walls: Protect your property from erosion and potential damage with sturdy and reliable retaining walls constructed to withstand the test of time.
Garden Walls: Add beauty and functionality to your outdoor space with expertly built garden walls, perfect for providing privacy and visual interest.
Restoration and Repair: Trust our experienced bricklayer to restore and repair any damaged or deteriorating brickwork, ensuring your property's structural integrity and aesthetic appeal.
Custom Brick Projects: Have a unique idea in mind? Our bricklayer can collaborate to bring your vision to life, creating bespoke brickwork that reflects your style.
We provide other options for in Croydon with fencing installers in Croydon and artificial grass installers in Croydon
Contact Pavescape Landscaping on 01737 464070 to discuss your bricklaying needs in Croydon and to learn more about our unbeatable services.